---
CLASS DESCRIPTION:
In this class we will be creating a set of creatures that were specifically designed to inhabit the abandoned gas pump by Michael Yurkovic. However the class will not be limited only to the students who made the gas pump scene, anyone can sign up as these creatures are perfect to use in other scenes as well! For those who made the gas pump we will doing a little landscape work as well, and the animals will be attached in place.
Once again my resin castings will be provided, and we will be painting them up to bring them to life. A pair of house sparrows, one sitting and one in flight, together with their nest and eggs. Also a very tiny mouse! Fun for everyone!
Material fee: DKK 260 - EUR 35
---
CLASS DESCRIPTION:
Warning - you may crave the full-scale inspirations for those pieces by the time you're done with this class! Cheese, salami, bread sticks, olives, walnuts, toasts, and martinis - perfect for a summer afternoon or evening soirée.
We will be exploring several useful techniques for working with polymer clay that can be applied to many other food projects, such as shading with chalk pastel and creating realistic textures and finishes. We will also be working with UV resin and resin color to create three different cocktails, including a Cosmopolitan and an Appletini.
Students will receive a stone tray, metal findings to hold the bread sticks and olives, and three martini glasses, but should feel free to bring any favorite display items of they own, including extra glasses should they wish to make more cocktails.
They will go home with a lovely, decadent charcuterie board and 2 extra cocktails, and well as molds for making more walnuts.
Beginners and experienced clay artist are welcome.
Material fee: DKK 230 - EUR 30
---
CLASS DESCRIPTION:
For the ébénistes, the finer cabinetmakers of the period, the transition from the challenging curved lines of Louis XV furniture to at least some straight and less complex lines of the Louis XVI style, was a change which must have come as a great relief both to the workshops of Paris and throughout northern Europe. This banded commode with a slight breakfront form is a very fine example of this style. From a prepared cutting list of timber and veneers each student will create the cabinet, shaping the curved legs and sabot feet. The two drawers will be made, veneered and banded. A real marble top will be cut, shaped and its edge beveled. With the cabinet completed a finish will be applied before fitting the decorative brass hardware.
Completion is likely in the allocated time however a written illustrated booklet will assist those who preferred to have a fun relaxed time in class and finish at home. All tools and supplies will be provided however please feel free to bring your own small tool boxes and any optical equipment you may require. A reasonable skill and ability would be an advantage. (Colour of marble may vary from photo)
Material fee: DKK 670 - EUR 90
---
CLASS DESCRIPTION:
A lot to choose from this time! Students will either make the carousel book The Night Before Christmas, or make a stamp collectors album in leather. The choice is yours!
Carousel Book
the carousel book The Night Before Christmas with five scenes of the poem written by Clement Moore. The book will be bound in green cloth and will have two red Christmas bells as closure. The complete poem in simple booklet, with illustrations of the carousel book will be made as well. A workshop for students with good eyesight, a steady hand and patience. Cutting the scenes from the carousel book requires precision cutting.
A stamp collectors album in leather
An old album inherited from your grandfather or a new album with white pages. A jewel for your miniature library. The first step is to build the pages of the collectors album. Each page has 6 pergamene paper strips were the stamps are placed behind. The pages together from the bootblack and the leather cover complete the album. There will be a choice of multiple colors of ultra thin leather. The most meticulous job for the students will be serrating the stamps, and placing them behind the pergamene strips.
It is useful if the students bring extra work light and loupe or work glasses to this class.
Material fee: DKK 260 - EUR 35
---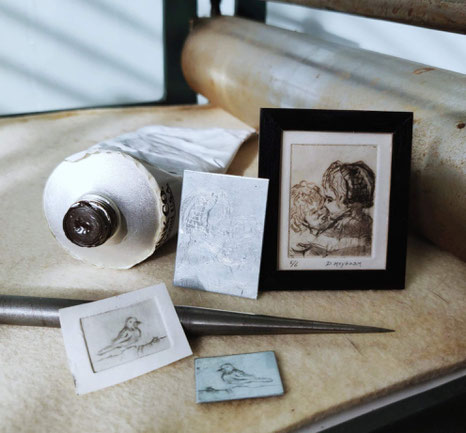 CLASS DESCRIPTION:
Under the supervision of Miniature Artist Diane Meyboom, you will make an original dry needle etch on a small zinc plate. The etch plate will be pressed on very thin high quality etching paper. You will learn the fine tricks of fine etching from Diane.
You are free to select and bring the image you would like to etch or you can get your inspiration from Diane in drafting the image. The number of etches being made is unlimited within the time frame of the workshop. Day 2 we will make the frames and frame the etching prints.
Material fee: DKK 260 - EUR 35
---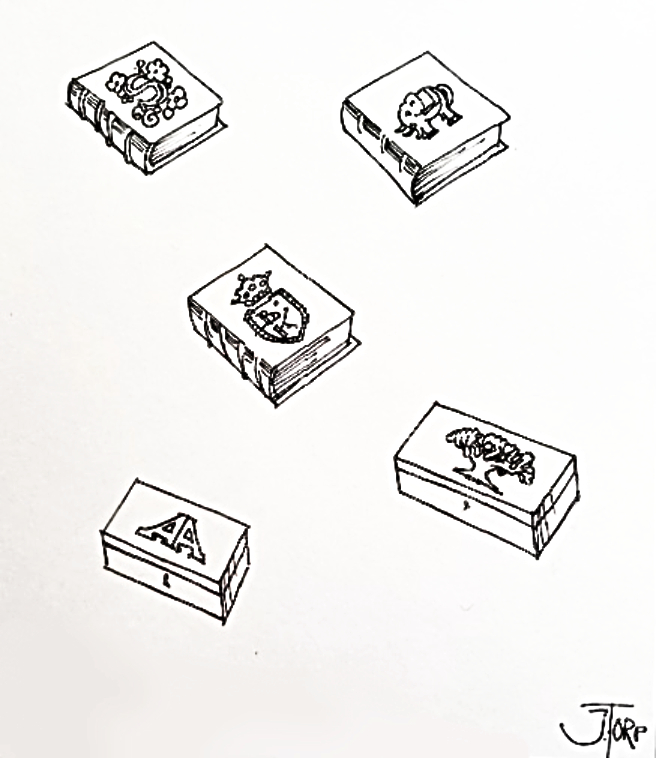 CLASS DESCRIPTION:
This Classic Park Bench can be the centerpiece of any garden or patio setting. This design is one I put together after looking at many different styles of benches, my goal being to try and capture the lines and proportions of something we may have all sat on at one point or another in a lovely garden or city park. The faux metallic finish of the legs and arm rests contrasts beautifully with the warmth of the hardwood seat. Notice the bolts securing the planks to the frame, and the worn patina on this well-loved resting place.
The "metal" arms and legs aren't really metal at all, but are cast resin parts, supplied by the instructor. We will paint and patina them to look like metal. Students will have several choices of colors, and can also decide how much they want to patina their piece.
The seat of the bench will be made of thin hardwood slats we will hand cut in class. The instructor will provide maple strips which the student will cut to length. No power tools necessary. The wood planks will then be embossed to simulate the metal fasteners holding the seat together. We will then stain the wood. Students will have several choices for darker or lighter wood tones. Students can also decide how much they want to "weather" the wood. The bench can appear fresh and new, or have more patina and apparent age.
Power tools: None
Material fee: DKK 335 - EUR 45