---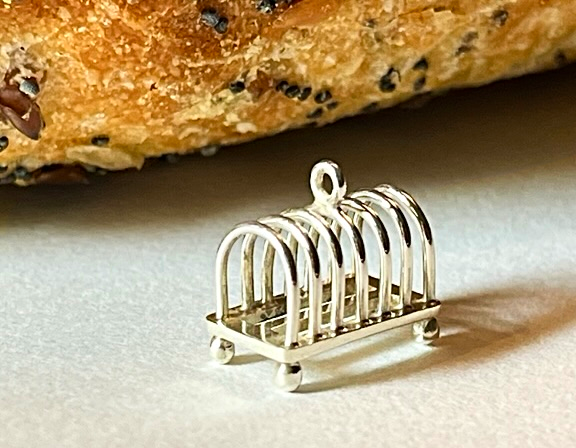 CLASS DESCRIPTION:
This elegant miniature Georgian toast rack is totally handmade!
The many techniques involved in making this piece include the skills of drilling, piercing and preparing round silver wire and bending it over a template. Following this, you will learn to solder the silver in different stages with a flame. The toast rack is then filed to the correct shape and prepared for polishing. The final stage is polishing the silver to a beautiful shining finish. 

Jens can teach the class in both Danish and English.


Materials fee: GBP 40 (paid to the teacher in English pounds or Danish Krone)
---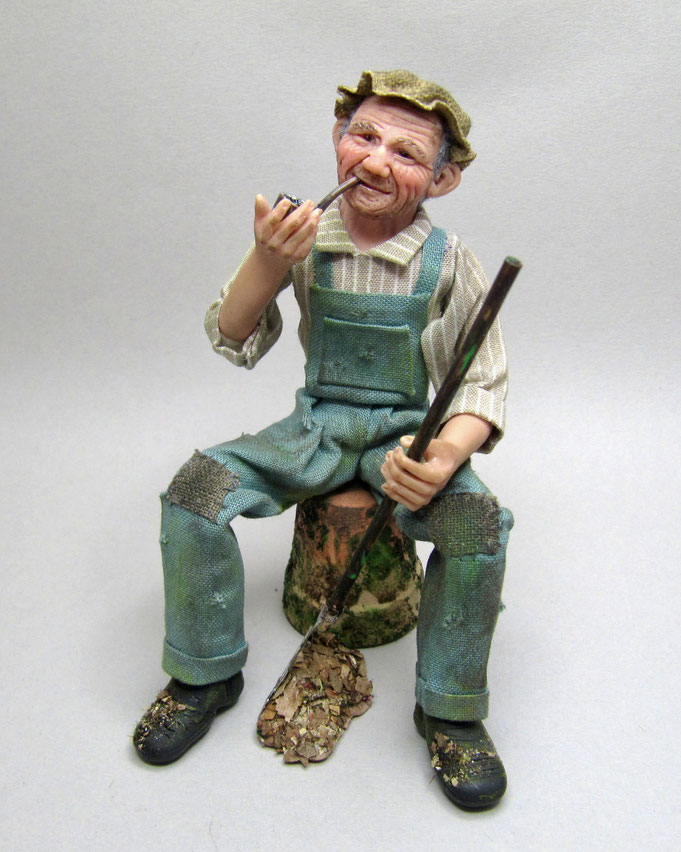 CLASS DESCRIPTION:
In this 3-day class we will sculpt a 12th scale sweet gardener from scratch.
You will learn how to make the armature using wire and bending techniques.
You will sculpt the face, torso, hands, legs and shoes using Polymer clay, while learning about the clay and partial baking. We will paint him with Genesis heat set paint, adding lifelike colouring and shading to his face, torso and hands.
You will learn how to make the rest of the body using yarn to get him ready to dress.
We will dress him up using various fabric and fabric glue, no sewing involved.
At the end we complete his hair using mohair and create his hat.

This workshop welcomes newcomers to polymer clay work and those who want to develop
their skills. All materials and tools will be provided to finish this project.
Please bring your magnifying glass and your favourite sculpting tools if you have any.

Materials fee: EUR 60
---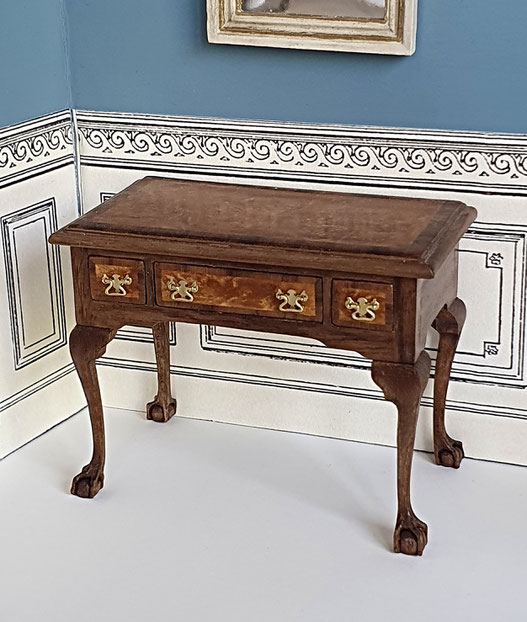 CLASS DESCRIPTION:
The focus of this class will be on learning how to carve ball and claw feet on the cabriole legs of an eighteenth century Queen Anne table, similar to the one above. Students will learn to carve the feet using tools like miniature gouges, a miniature chisel and an X-acto knife. 

The main carcass of the table will be assembled from a prepared cutting list of pearwood. The table will have one drawer. The top and drawer are veneered with walnut burr (or other) and the cross-banded border is optional.  The table will be finished with a choice of stain, sealer, wax or shellac. All the wood, precut pearwood parts, veneers and two drawer handles will be provided.
The students will need an X-acto knife with several new blades, 1 or 2 miniature gouges (Pfeil), a miniature chisel, a metal miniature square, a fineliner pen (1.0 mm), a metal ruler, a dry point compass(dividers), a set of files...A complete list of tools + suppliers will be sent to the students taking this class.
I can order some tools, the Pfeill gouges cost approximately 22 euros each.


Materials fee: EUR 100 (excluding any tools you'd like to order through Yosh)
---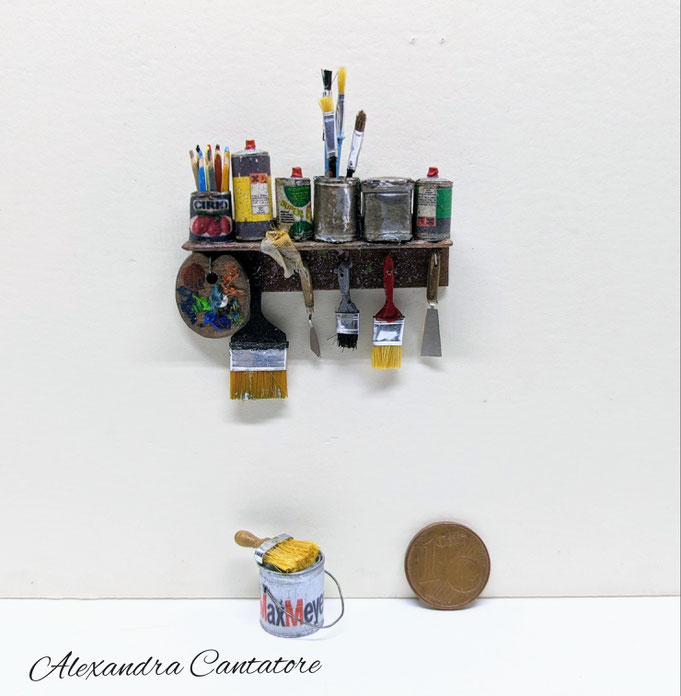 CLASS DESCRIPTION:
In this class we will be making a shelf (size 47mm x 13mm, deep 9mm)  for an artist's studio, but it could also be found in a garage or cellar.
The shelf holds 2 metal jars containing colored pencils and brushes, cans of turpentine and solvent, and an old, closed metal pot. Hanging from the hooks we find a palette, flat brushes and two spatulas (photogravures by Pierluigi Pirovano, IGMA Artisan).
To complete the composition, we will make a closed tin of used paint and a paint brush.
We will use wood, modeling sheet metal, polyshrink and, of course, hair to make brushes, spray acrylic and oil paints. You are going to learn the technique of giving different shapes to the various brushes and cans, and how to age and make each object come to life.
No special technical skills are required other than a good dexterity in using a cutter and other simple tools.
 
Materials fee: EUR 65

---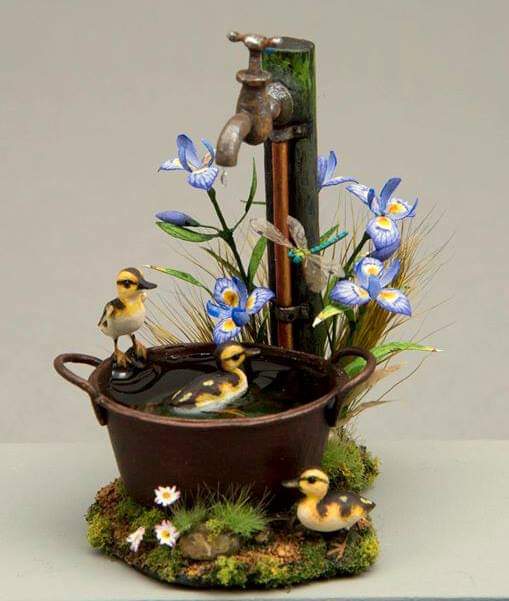 CLASS DESCRIPTION:
In this 3-day class we will be working with clear resin, polymer clay, wire, paper and landscaping materials to create this scene. The duck castings will be provided and acrylic painting techniques taught to bring them to life. Clear resin will be used to create water. Special focus too will be on contrasting textures such as metal and wood, as well the delicate structure of iris flowers.


The class will be a fun and enjoyable experience with a really beautiful finished project to take home!


Materials fee: EUR 50

---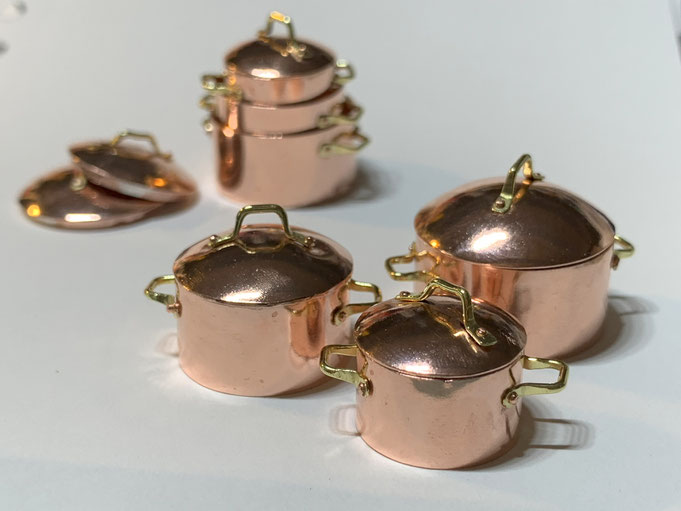 CLASS DESCRIPTION:
In three days we are going to make three copper pots with lids in different sizes.
You will learn a large variety of metalwork techniques: sawing, drilling, dapping, riveting and soldering.
You will saw and form the various parts of the pots and lid out of copper plate. We will use a jewellers saw, drill and hammer. Then use a flame to solder the parts together.
The handles are made of brass wire. It will be riveted onto the pots.
It is recommended that you have some experience in using a fretsaw or a jewellers saw. The pieces must be made very precise in order to be able to solder it.
Materials fee: EUR 60

---